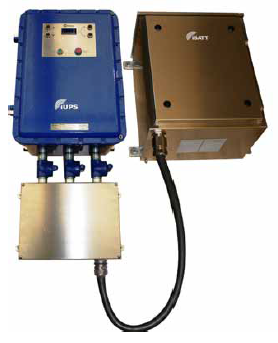 The Extronics ATEX Zone1 Certified iUPS101 Uninterruptible Power Supply system is perfect for use in Zone1 hazardous areas. The UPS system provides you 230VAC backup power for 35 minutes. (at 3KVA full load at 20 Degrees Celsius)
This ATEX Zone1 Certified UPS system allows you to safely turn off your critical equipment such as control systems, navigation or landing lighting or blow out prevention systems. In case of an blackout or brownout you do not want these systems to turn off without you knowing it.
The Extronics ATEX Zone1 Certified UPS system has an modular design, allowing you to add another battery pack, which doubles the backup time up to 70 minutes with a 3KVA load at 20 Degrees Celsius. The modular design also allows you to add an additional iUPS101 UPS system to create a system which can support a maximum load of 6KVA for 70 minutes at 20 Degrees Celsius ambient temperature.
The Extronics iUPS101 UPS system is designed to be wall mounted, the UPS system is comprised of stainless steel. The battery conclsure contains maintenance-free valve regulated lead acid batteries.
Access to the incoming/outgoing cables is easy duo to the Ex'e' enclosure being 'close coupled' to the Ex'd' enclosure via cable bushings, so there is no need to open the Ex'd' enclosure. The UPS system has an glass window showing various information such as alarms, and status information. The UPS system also comes complete with door mounted Ex'd' buttons to configure the UPS charging conditions and input/output supplies.
Protects your equipment, allows you to safely turn off your equipment
Advanced battery charge control
Rugged Enclosures (IP66 and IP45 Certified)
Backup time for approx 35 minutes @ 20 Degrees Celsius.
Input power supply 200-265VAC (45-65Hz)
Output power supply 23VAC
Maximum power output 3KVA
Backuptime approx 35 minutes (can be doubled/expanded)
Weight Ex'd' Enclosure + Ex'e' close Coupled Enclosure 90 Kg
Weight Ex'e' Battery Enclosure 122 Kg
Environmental Operating Temperature -20 to +55 Degrees Celsius @500VA
ATEX Zone1 Certified
The listed price is an indication, it may depend on the parts.