ATEX iSCAN200 I. S. Barcode Laser Scanner (EOL)
THIS PRODUCT IS END OF LIFE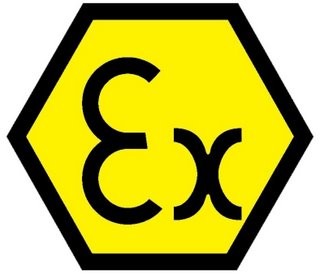 ATEX II 2G EEx ia IIC T4
-30°C to +50°C
Scanner IP65. Receiver IP66
The iSCAN200 is a modern cordless scanner designed or use is hazardous areas. The systems consist of a battery powered hand held laser scanner, base station and safe area charger for the scanner. Available in standard or long range versions for scanning pp to 1.8 metres.
The iSCAN200 is very robust with rubber sheaths over both ends to protect against impact, making this unit suitable for use in a wide range of applications.
Connections
An IP66 certified base station can be connected to a PC or Control system using either PS2, RS232 or RS485
connections.
Specifications:
Certification Number

:

Scanner:- TUV 04 ATEX 2640 Base Station:- TUV 04 ATEX 2641

Certification Type:

Scanner:- Ex II 2G EEx ia IIC T4. Base Station:- Ex II 2G EEx em [ia] IIC T4 And ; Ex II 2D T95/70/6°C IP66

Dimensions:

Scanner:-192x56x49mm.Base Station:-220x120x92mm

IP Rating:

Scanner IP65. Base Station IP66

,
Ambient Operating Temperature: -30°C to +50°C, Scanner:-170g. Base Station:-2.500g
Scanner:- Polycarbonate.
Receiver:- GFK-Polyester
Power Supply

Scanner:- NiMh Battery. Base Station:- 115/230/250 VAC, 24VDC max 100mA

Charger:- 300mA Max
Interface

PS2, RS232 & RS485
Barcode Compatibility:

Auto discriminates all standard bar codes. For other Symbologies please call Extronics.

Scanning System:

Visible Laser Diode (VLD Standard Range: 670nm Long Range:650nm

Scanning Range

Up to 1.01m (barcode dependant)
DOWNLOADS
*Prices as shown on this store are indicational and subject to 21% tax, currency changes and shipping costs. For an accurate and special price please call or e-mail our support.