Intrinsically Safe Counter Timer Tachometer Clock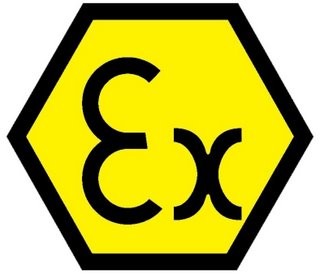 Intrinsically safe for use in gas and dust hazardous areas
II Category 1G, Ex ia IIC T5
The ATEX Clock is a multi function instrument which may be programmed to perform a host of counting and timing functions. The Intrinsically Safe Clock has easy to use menus allowing the clock to be configured as a counter, timer, tachometer or clock. Both of the inputs will operate from 2-wire proximity detectors, switch contacts, magnetic pick-offs, open collectors or voltage pulses.
Configuration as a digital clock enables time to be displayed in twelve or twenty four hour format within a hazardous area. The instrument may operate as a stand-alone clock, or may be synchronised via the reset terminals with an external reference. Two optional control outputs enable hazardous or safe area loads to be turned on and off at preset times twice in each twelve or twenty four hour period.
Counting may be from one or both inputs. The pulses at each input can be added to, or subtracted from each other, and the result may be scaled to provide a display in engineering units. Alternatively, pulses on one input can increment or decrement the total count depending upon the state of the other input. From two inputs electrically 90° out of phase (quadrature), the BA364D can display the direction of movement and position of a shaft or a cable. The total display may be reset to zero via the instrument controls or by a remote contact closure.
Downloads

Product Info
*Prices as shown on this store are indicational and subject to 21% tax, currency changes and shipping costs. For an accurate and special price please call or e-mail our support.