ISOLATE501
The iSOLATE501 is an ATEX, IECEx, and MET endorsed RF galvanic isolator for use in Zones 0, 1, 2/22 and mining applications. It is the up and coming era of Extronics weighty innovation, intended to enhance further on the execution of the business demonstrated iSOLATE500.
Notwithstanding covering 2.4GHz/5GHz WiFi frequencies and the 900MHz ISM band, the extensive 150MHz to 8GHz data transmission of the iSOLATE501 can likewise be utilized as a part of Marine VHF, 433MHz ISM, Tetra and full GSM recurrence applications, for instance.
Why the iSOLATE501?
The iSOLATE501 gives galvanic disengagement to give security against perilous drifters. This makes the lion's share of standard RF yields naturally sheltered, implying that you can utilize most non-affirmed recieving wires inside risky regions, for instance the Extronics iANT2xx scope of high caliber and rough open air reception apparatuses.
-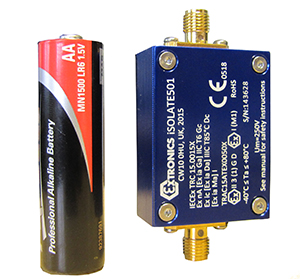 AA battery alongside Extronics' iSOLATE501



Typical Ex d Installation
Typical Safe Area Installation
*Prices as shown on this store are indicational and subject to 21% tax,
currency changes and shipping costs. For an accurate and special price please call or e-mail our support.