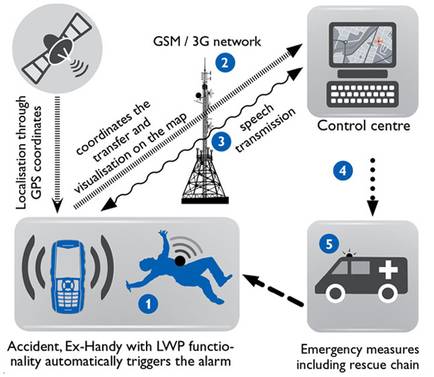 The lone worker suffers an accident or gets into a dangerous situation. The sensors in ecom's Ex-Handy with LWP functionality register this in accordance with the selected alarm modes.
The Ex-Handy with LWP functionality then automatically sends an alarm to an internal control centre or an external service provider. In addition to transferring the coordinates, the site of the accident is also visualized on a separate map. This makes it immediately apparent where the employee is located.
The Ex-Handy with LWP functionality simultaneously establishes vocal communication with the recipient of the emergency call. This enables the recipient to determine whether the injured employee is still responsive and what has happened.
The processing (organization and coordination) of the emergency call is safeguarded and documented in the System Mode. The rescue of the employee is thereby also guaranteed.
Rescue of the employee.