ATEX & IECEx thermo Certified Explosion Proof Compact Digital and Thermal Camera: TOUGHPIX DIGITHERM Class I - Div II
Call for Price
*
Price may change due to echange rate.
The TOUGHPIX DIGITHERM is a ruggedized, compact, high resolution Zone 1 digital imaging camera capable of capturing true 5MP visual images along with fully radiometric thermal images making this camera your go-to tool for fault finding, documentation whether your work is HVAC, building envelope inspections, electrical repair or facility maintenance. Weighing in at under 400g, the TOUGHPIX DIGITHERM Is the lightest in class making it easier than ever to carry and transport.
Dimensions as follows:
Width: 113mm
Height: 76mm
Width: 45mm
ATEX & IECEx Certified Explosion Proof Zone 1 Compact Digital and Thermal Camera: TOUGHPIX DIGITHERM US version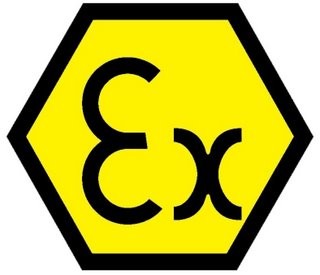 Description
The Cordex Zone 1 TOUGHPIX DIGIHERM US version pocket measure advanced and thermal imaging camera, minimized enough to fit into any work pocket yet rugged enough to handle the hits, TOUGHPIX DIGITHERM is a go-anyplace camera giving the power and versatility to take care of business. Unfailingly.
Rugged, incredible and with earth shattering moderateness, CorDEX DIGITHERM sets the standard with conservative digital imaging cameras. With must-have highlights including; 5megapixel visual camera, LED streak, realtime visual/thermal image blending, remote network, CorDEX DIGITHERM carries another measurement to the assignment of discovering, archiving and sharing issues..
Tried to limits each and every segment in TOUGHPIX DIGITHERM has been chosen in light of one objective, quality that is made to last. From being solidified to - 20C and dropped from a meter, to being impacted with water and soil as a component of industry driving Ingress Protection testing. TOUGHPIX DIGITHERM has been pushed to the extreme.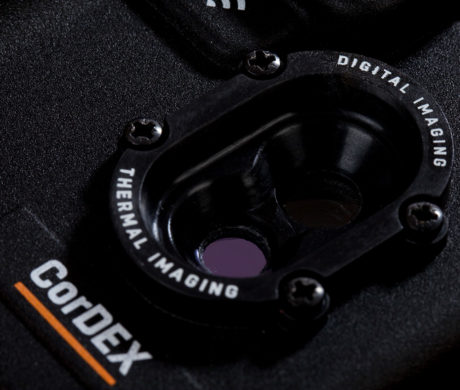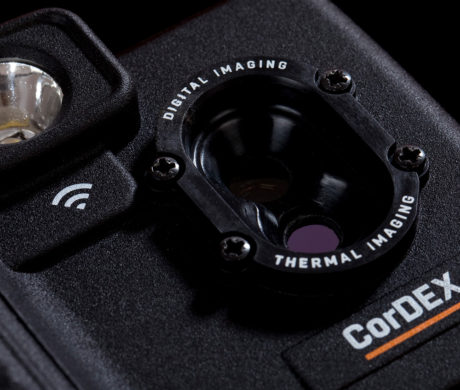 Highlights
-  ATEX and IECEx Certified
-  Adaptive thermal blending
-  5 megapixel digital camera with programmed, mechanized focus. Catch high resolution visual pictures
-  Ultrabright LED streak
-  Fabricated from lightweight however strong, aircraft grade aluminum, TOUGHPIX DIGITHERM tips the scales at under 400grams
-  WIFI Download pictures straightforwardly to your tablet or smartphone with the CorDEX CONNECT Mobile app or by an onboard webserver
-  Rechargeable removable battery
-  Incredible LED streak for low light imaging
-  Using CorDEX EMA, DIGITHERM can measure from - 10C to +380C with precision upto 2% or 2degrees.
-  Smooth and rugged design.
-  Alarm triggered recording
-  Smooth touch buttons for better ease of use
-  Never come up short on memory because of the removable CorDEX Memory card
-  Mechanized optical focus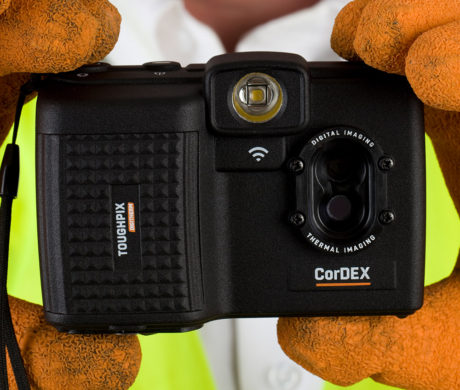 Specifications


Certificate Information:
ATEX / IECEx Certificate No.
ExVeritas 17 ATEX 0277x / IECEx EXV 17.0013X


ATEX / IECEx Certificate Type
EX II 2G / Ex ib op is IIC T4 Gb


Ambient Temperature
Tamb -10C to +40C
General Information:


Image Download
High Speed removable memory card with USB (safe area only) & CorDEX Wireless Android App


Standard Image Capture Resolution
5 Megapixel


Screen Size
2.8 inches



Detailed Information:


Lens & LCD material
Armoured Glass


Body Material
Anodised aluminium with polymeric materials




Battery Type
Removable & Rechargeable Ex Power Battery


Imaging
Adaptive thermal blending for dual mode imaging


Low Range
-10c to +140C with +/-2C or +/-2% accuracy


High Range
-10c to +380C with +/-5C or +/-5% accuracy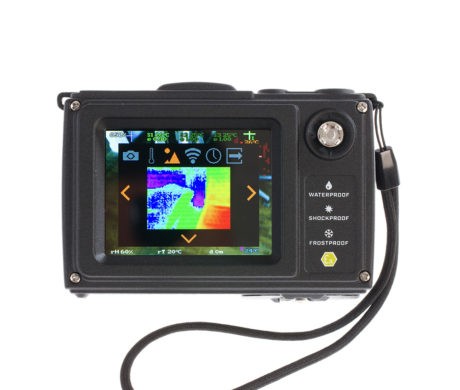 U can make thermographic pictures and normal pictures with the TOUGHPIX DIGIHERM camera!
Downloads

 DIGITHERM_datasheet_Comm-Co.pdf
*bij order waarde beneden de 450 euro 25 euro klein order toeslag!
Prices as shown on this store are indicational and subject to 21% tax,
currency changes and shipping costs. For an accurate and special price please call or e-mail our support.