Agile X IS Industry Tablet PC for use in Zone 1/Div. 1
Features
Highly flexible industrial tablet PC with powerful Quad-Core processor for rough and hazardous environments
Ergonomic positioned high quality 1D/2D imager SE4500 from Zebra and RFID reader HF/NFC
Brilliant, high-resolution, bonded 10.1" touch LED display, sunlight readable, rain useable
High quality 5 MP camera
Integrated Bluetooth 4.1 LE, WLAN and optional LTE module
Unique expansion port for customer specific applications
Great amount of accessories supporting Productivity and operator safety
Agile X IS Industry Tablet PC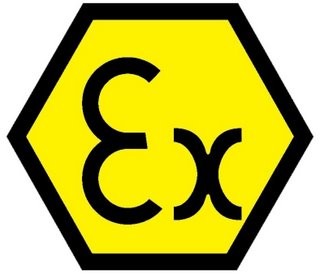 Description

The Agile X IS is introducing a new era in mobile data exchange: the first tablet PC certified completely for Zone 1/Div. 1 is ready for industrial field use. Equipped with an as yet unique hot swappable storage battery, which can be replaced – without turning off the device – during work in Zone 1/Div. 1, it allows uninterrupted 24/7 running time.
Another world novelty is the integrated scanner. It was developed especially for requirements in Zone 1/Div. 1. The Agile system encompasses a wide range of accessories, thereby multiplying the devices' possible uses. With its power processor and Windows 10 OS-based system, the tablet provides the same performance in outdoor use as a desktop computer does in the office. Agile X IS assures sustainable and efficient work results – everywhere and at any time.

Scope of delivery
Power supply and line cord (EU + US), cover module (if no external battery included), dual stylus, quick guide.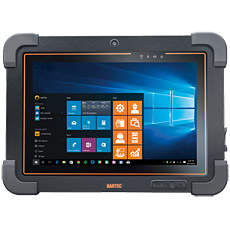 Technical Data:
Dimensions
290 mm x 209 mm x 33 mm (Length x Height x Width)
Weight
2.3 kg
Camera
2 MP (front),
5 MP (rear), AutoFocus, Flash
Display
10.1" (16:10), optical bonding Gorilla Glass LCD with touch function,
Resolution: 1920 x 1200 pixel
Keyboard
Hotkey buttons
Front: Power, Home/Menu, Fn 1 (programmable)
Upper right: Volume +, Volume-, Fn 2 (programmable)
Operating system
Windows

®

10 IoT Enterprise CBB
Windows

®

Embedded 8.1 Industry Pro
CPU
Intel N3710 1.6 GHz (turbo 2.56 GHz)
Memory
System memory: 8 GB DDR3L-1600 on board
Mass storage: 128 GB SSD
Battery
Internal battery capacity: 7.4 V typ. 4200 mAh
External battery capacity: 7.4 V typ. 4200 mAh
Internal battery charging time: approx. 3 h
External battery charging time: approx. 5 h
External battery can be hot swapped in hazardous area
Network specifications
WiFi On board: IEEE 802.11 a/b/g/n/ac; 2 antennas
WWAN: 4G/LTE (optional)
Bluetooth: BT 4.1 Class I
Features:
Highly flexible industrial tablet PC with powerful Quad-Core processor for rough and hazardous environments
Ergonomic positioned high quality 1D/2D imager SE4500 from Zebra and RFID reader HF/NFC
Brilliant, high-resolution, bonded 10.1" touch LED display, sunlight readable, rain useable
High quality 5 MP camera
Integrated Bluetooth 4.1 LE, WLAN and optional LTE module
Unique expansion port for customer specific applications
Great amount of accessories supporting Productivity and operator safety

Marking:
ATEX:

II 1G Ex ia op is IIC T4 Gb
-20 °C ≤ Ta ≤ +50 °C
IECEx:
Ex ia IIC op is T4 Gb
-20 °C ≤ Ta ≤ +50 °C
UL:
Class I, Division 1, Group A, B, C, and D
CLass I, Zone 1, Aex ia IIC T4 Gb


Ambient temperature:
-20 °C to +50 °C
Accessoires
HART add-on module for Agile X IS, Type 17-A1B4-1..1/222.1.00
Confi gure, set parameters, read out and measure HART devices in the
Ex area vailable driver software makes it simple to install and set up.
Connection to HART loop as secondary master. Hardware supports
Version 5, 6 und 7 HART.
Must be assemble/disassemble only outside potentially explosive atmosphere!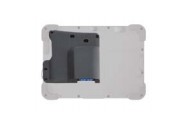 All accessoires for Agile X IS.pdf
Downloads

DEMKO 16 ATEX 1803-certification.pdf



IECEx UL 16.0160 -certification.pdf



UL Division 1 -certification.pdf
*bij order waarde beneden de 450 euro 25 euro klein order toeslag!
Prices as shown on this store are indicational and subject to 21% tax,
currency changes and shipping costs. For an accurate and special price please call or e-mail our support.