Lora Sushi Sensor XS770A - Zone 2
Call for Price
*
Price may change due to exchange rate.
Features:
* Easy setup with smartphone/tablet.
* LoraWan wireless technology with wide coverage
* Real IIoT device with data storage in the cloud
* Data transfer on own-operating network or public network
* Data analysis detecting abnormal behaviour reducing breakage and downtime
Sushi Sensor XS770A
(can measure vibration and surface temperature)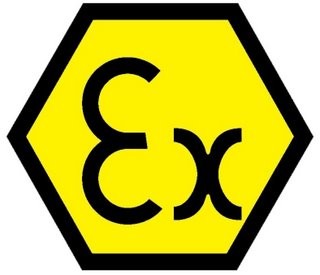 Industrial IoT is driving the growth of wireless sensors being deployed to digitize field data. There is tremendous innovation in this space, driven by technology convergences and advances in miniaturization.
Sushi Sensor is an OpreX™ brand wireless solution for the Industrial IoT. The first product XS770A can measure vibration and surface temperature to monitor machine or facility conditions for industrial applications. Also it has environmental resistance features to support heavy-duty use (IP66/67, explosion proof).


Monitoring and visualizing the condition of equipment utilizing Sushi Sensor is the first step to make the plant maintenance more efficient.
Sushi Sensor will be a strong tool for reforming the plant maintenance works in combination with advanced analytics such as AI, machine learning in a cloud.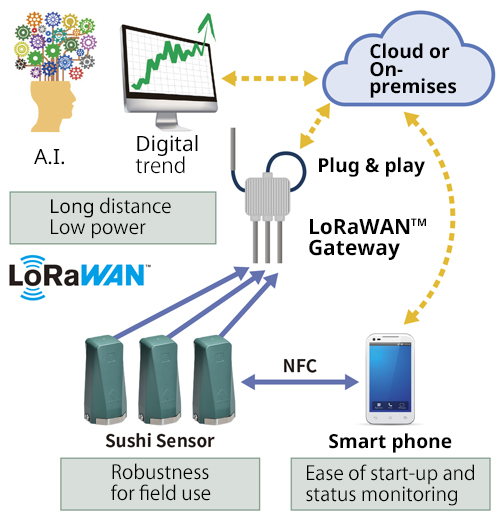 What is a target to be measured ?
Sushi Sensor can measure vibration and surface temperature of production facilities and equipment.

What is a purpose of use ?
Conventionally, equipment inspection relies heavily on the experience and intuition of individual field operators.
Sushi Sensor can support and assist such operators to monitor the health of plant equipment and detects signs of abnormality by measuring vibration and surface temperature instead of routine operator rounds or periodic inspections.
One hour cycle data collection is expected for Sushi Sensor operation. It is more frequent than collecting data by operator rounds.
By digitizing, quantifying and visualizing measured data, Sushi Sensor can notify signs of anomaly of plant equipment.

What are target facilities and equipment ?
Major targets of Sushi Sensor are pumps, motors and other rotating machines which are usually monitored by vibration and surface temperature through operator rounds. But the application is not limited to those rotating machines. However various applications are expected.
What is LoRaWAN ?
LoRaWAN is one of the LPWA (Low Power Wide Area) communication protocols and is an open standard focusing on IoT. The main features are long-distance and low-power communication for battery-driven devices. LoRaWAN enables plant-wide coverage wireless infrastructure, and it brings sensor installation and operation easily.
The box only contains the following:
• Lora Sushi Sensor XS770A - Zone 2
Please note:
The Sushi sensor only works with an android device (Installation is with the phone)
Delivery time: 1/2 weeks.
Downloads

 IM01W06E01-01EN_Sushi Sensor startup guide.pdf


 IM01W06E01-11EN Sushi Sensor Manual.pdf

 comm-co_Sushi_Sensor_General_Specifications.pdf
For orders under € 450 we charge € 25 order costs.
Prices shown on this website are before taxes, currency changes and shipping costs.
For an accurate price please contact our sales team at info@comm-co.com