Ecom CT50-Ex Smartphone ATEX/IECEx WIN 10 UMTS
Zone 2 Features: Wind 10 IoT ; Android 6.0 2.26 GHz Qualcomm Snapdragon 801 quad-core processor 1280x720 bright color LCD with backlight Honeywell N6600 Imager engine (1D / 2D barcodes) On-screen keypad 8 MP color camera NFC reader Memory: 2 GB RAM, 16 GB flash UMTS (optional)
Ecom CT50-Ex Zone 2 Smartphone ATEX/IECEx WIN 10 UMTS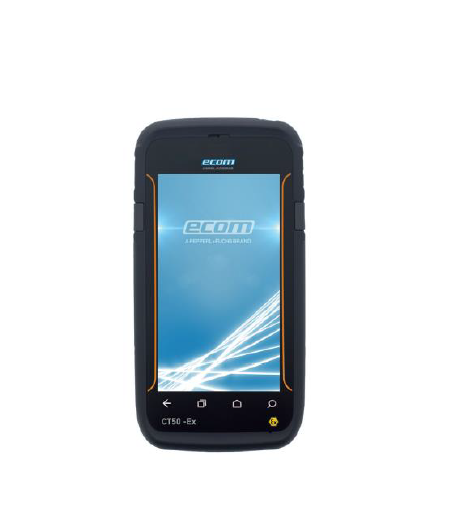 Features:

Wind 10 IoT ; Android 6.0
2.26 GHz Qualcomm Snapdragon 801 quad-core processor
1280x720 bright color LCD with backlight
Honeywell N6600 Imager engine (1D / 2D barcodes)
On-screen keypad
8 MP color camera
NFC reader
Memory: 2 GB RAM, 16 GB flash
UMTS (optional)
Ex-designation:

ATEX:
Ex II 3G Ex ic IIC T4 Gc IP64
Ex II 3D Ex ic IIIB T135°C Dc IP64

IECEx:
Ex ic IIC T4 Gc IP64
Ex ic IIIB T135°C Dc IP64

Ambient temperature:
-20 °C ≤ Ta ≤ +50 °C
Scope of delivery:
CT50 -Ex
Ex-battery
Wrist strap
Stylus pen
Documentation

Accessories for:
Charging (different charging bases)
Mounting
Connecting (cables, adapters …)
Handling (scan handle, holsters …)

We will provide a detailed accessory guide with part numbers soon.
Downloads

300039AL05A00_PA000745-comm-co.pdf
Data sheet (PDF) German Week 06/2018
Data sheet (PDF) English Week 06/2018
Accessory guide English Week 06/2018
*bij order waarde beneden de 450 euro 25 euro klein order toeslag!
Prices as shown on this store are indicational and subject to 21% tax,
currency changes and shipping costs. For an accurate and special price please call or e-mail our support.
Check items to add to the cart or