G7C wireless gas detector
* Gases monitored - H2S, LEL, CO, O2, CO2, NH3
* 3G Communication
* No-motion Detection triggers alarm
* GPS Location & Employee Check-in
* Fast Emergency response with Evacuation management
* SOS latch for employee activation
* Customisable, field replacable Sensor Cartridges
* Lifetime Warranty on cartridges
* Automatic updates with Wireless Connectivity
* 24/7 Live Monitoring
* Intrinsically Safe
G7C wireless gas detector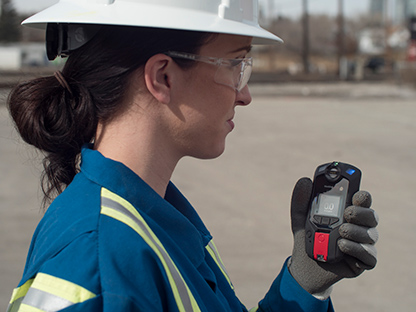 Blackline Safety's release of their NEW G7c portable gas detector gives you the world's first 3G connected wireless gas detector with live lone worker monitoring.
G7c Lone worker device and gas detector in one
Stay connected with 3G wireless, location technology, automatic incident detection and a built-in speakerphone that empowers the fastest possible response time. The G7 sensor cartridges are available to tailor the G7c's functionality.


* Gases monitored - H2S, LEL, CO, O2, CO2, NH3
* 3G Communication
* No-motion Detection triggers alarm
* GPS Location & Employee Check-in
* Fast Emergency response with Evacuation management
* SOS latch for employee activation
* Customisable, field replacable Sensor Cartridges
* Lifetime Warranty on cartridges
* Automatic updates with Wireless Connectivity
* 24/7 Live Monitoring
* Intrinsically Safe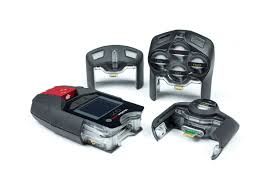 Customisable Gas Detector
The G7c can be tailored to specific work environments with the ability to replace the sensor cartridge within the field. Choose and change from single or quad gas options. Cartridge options include:

* Standard - lone worker safety
* Single Gas - customisable single gas options
* Quad Gas - monitor for up to four gases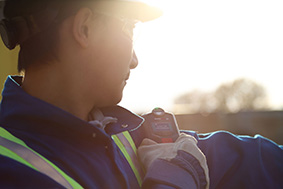 Fast Response Time
Blackline Safety has designed the G7 range of portable gas detectors / lone work monitors with every facet of safety in mind.

* No-Motion Detection will trigger an alarm
* Escalation of pending alarm alerts when the worker has not acknowledge no-motion detection alarm
* SOS latch for manual alarm trigger
* 24/7 live monitoring
* Two-way speakerphone - connecting affected workers with teh 24/7 monitoring teams
* Constant connectivity

Wireless Configuration
With wireless connectivity each G7c gas detector can be remotely configured and firmware updates are automatic allowing consistent and up-to-date operation. Current setup and configurations are shared with employees at every start-up. Your workers are covered from detecting gas leaks to monitoring lone workers and evacuating facilities. Every safety incident and gas alert is communicated instantly to Blackline Safety for storage and reporting.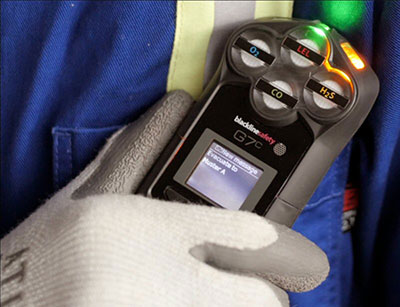 User Interface

* Gas readings
* Bump Test & Calibration reminders
* Employee Check-in
* SOS latch
* SureSafe® Lighting / Vibration & Sound

S Green light - indicates live monitoring (the worker knows they are being monitored)
S Yellow light / Vibration & Sound - indicates an incoming message to the worker
S Red light / Vibration & Escalated Sound - indicates that assistance is needed or that a Yellow alarm has not been responed to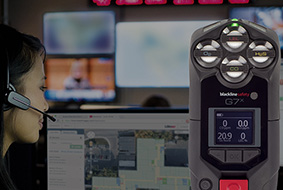 Blackline Live Web Based Monitoring Portal
Blackline Safety's web monitoring portal means that the gas monitor in the field can be configured for a variety of applicaitons/conditions:

* Specific Work Conditions
* Emegency Response Protocols
* Upload custom facility maps / floor plans
* Compliance and Data collection
Emergency response protocols and device settings are easily configured in each user account and provides monitoring personnel with the information necessary to manage an optimised emergency response. The ability to upload custom facility maps and floor plans allows you to direct emgerncy responders directly to the employee's location within the context of their surroundings. From the onset of an incident through to resolution, Blackline Live provides all the tools necessary to manage a world-class safety monitoring program.
Blackline Live also allows for automatic data recording meaning your have a record of all incidents, meaning your employees can feel secure knowing they are constantly monitored and alleviating teh need fror manual data collection.

* Gas Leak readings
* Safety incidents
* SOS latch release
Downloads

G7c_DataSheet-comm-co.pdf

For orders under € 450 we charge € 25 order costs.
Prices shown on this website are before taxes, currency changes and shipping costs.
For an accurate price please contact our sales team at info@comm-co.com