Smartflow Enterprice App Development
Call for Price
*
Price may change due to echange rate.
SKU
Smartflow Enterprice App Development
Smart Enterprice App Development
Smartflow develops industry-specific applications (Apps) for mobile workers who use tablets and smartphones. These user-friendly applications are fully integrated with the existing systems within your organization. The best support your work with mobile applications certainly lead to greater efficiency and cost savings. To achieve this smartflow uses the following steps: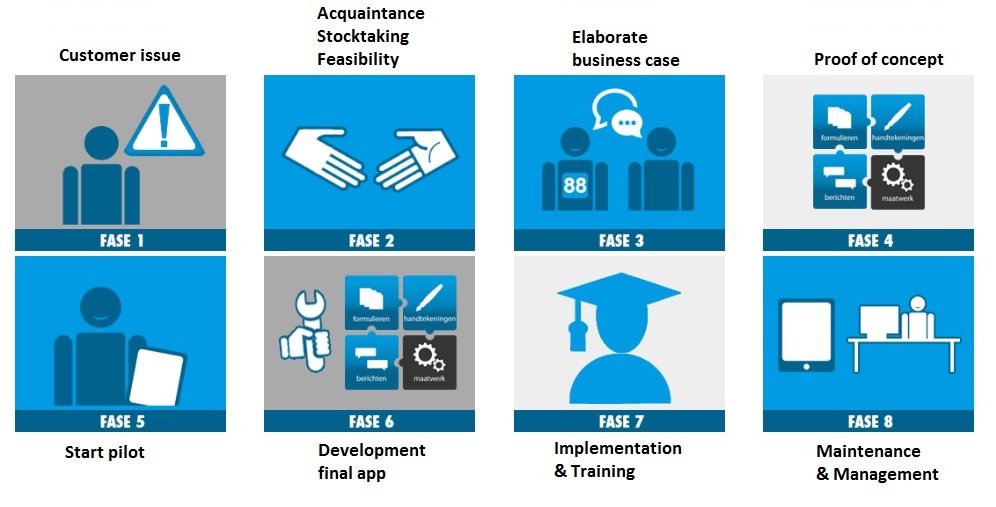 Our method
For us the question "What does it cost to develop an App?" Is not the point. A successful SMART FLOW of smartflow App should contribute directly to the results of your organization. To determine this smartflow using the APPnalysis SCAN will work with you to develop a business case. If the business case shows that to achieve significant performance improvements are smartflow will own account risk a first Proof of Concept. If it meets your expectations will produce the definitive SMART FLOW App for your organization in accordance with all customer-specific requirements. Your savings are already proven!
The team at smartflow
The highly trained specialists smartflow like to be challenged by you. SMART FLOW App always contribute to the results of your organization. Innovation, creativity and modern technologies and will form the basis. We are not satisfied until you are satisfied! Strategy, planning, design and development to implementation, maintenance and management. The employees of smartflow like to make part of your organization when it comes to the right solution.
Development
SMART FLOW is the basis for your Enterprise App. is an advanced platform where complex issues such as data security, data synchronization, data integration with back office and many other aspects made this standard available MEAP (Mobile Enterprise Application Platform). In addition, SMART FLOW offers an array of standard features that can be used as standard components in your Mobile App. Development time, integration and other costly processes are minimized. Supplemented with your customer specific requirements makes this all your SMART FLOW APP rapid, complete and cost-effective. SMART FLOW offers a hybrid solution in which "the best of both worlds" are brought together during the development of your app.


Platform independent
SMART FLOW uses recent but proven technologies for mobile applications, which your app cross-platform can be deployed, including Windows, Android and iOS. The client app is characterized by a pleasant user experience and thereby also working offline so that when loss of data connection can be continued. SMART FLOW is ideal for your mission critical enterprise apps with heavy demands on performance, security and integration with device-specific components.

web Office
Your Mobile Apps are managed from a central web office. Consider the management of users, authorization rights, monitoring, communication and other important management tasks. Of course, the Web Office offers a number of standard reports that simplify the management and use. Your are "anytime, anywhere, any device" aware of the daily developments.
ARCHITECTURE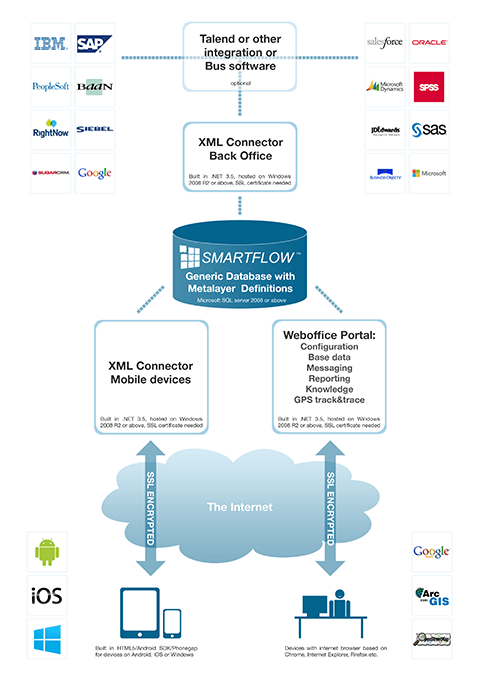 Downloads

 Smartflow UK (Comm-Co).pdf
*bij order waarde beneden de 450 euro 25 euro klein order toeslag!
Prices as shown on this store are indicational and subject to 21% tax,
currency changes and shipping costs. For an accurate and special price please call or e-mail our support.